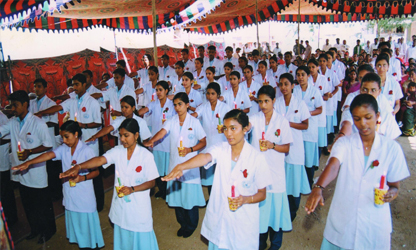 Extra / Co-curricular Activities:
Our students eagerly participate in the sports fest and cultural fest conducted every year. We also conduct debates, Anthakshari competition. Quiz competition, and we used to celebrate Onam, Christmas which take off the feeling that our students are far away from home. We take our students on excursions to local historical places and those of educational significance. Every year we conduct lamp lighting and oath taking ceremony (Samarpana) and college day and send off celebrations (Ashirwad) and nurses day celebrations.
Every year we used to conduct curricular and extra curricular activities like:
1
Samarpana
Lamp lighting ceremony of newly admitted students.
2
Asirwad
College day and farewell of out going students.
3
Arogyotsav
A health programme conducted in the community for the welfare of the community people.
4
NSS unit
An eminent NSS unit is working delightfully in our institution and with the help of them we are conducting various mass health education programme, health camps, immunization programmes yearly.
5
Sports and cultural meet
We usually conduct sports and cultural meet to find out the talents of our students and prizes are distributing to the winners in every year.
6
Inter collegiate cultural meet
We provide a golden opportunity for our students to exhibit their extra talents by making them to participate in inter collegiate cultural meet conducted by RGUHS every year.
7
Placement cell
Here efficient coaching is provided to the students for NCLEX, IELTS for their bright future.
Apart from this recruitment process, placement for the middle east countries are our eminent features.
English Language Training :
For competing with the present overseas carrier in Western countries; we provide special language training like IELTS, TSE etc.